20 22 24 26 28 30 inch Wheels and Tires Great Deal(Rims financing) in Pensacola, Florida For Sale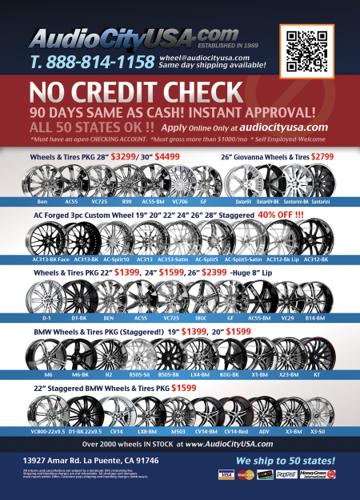 Price: $19
Date/Time:17 Apr, 08:59 a.m. EST
Type: Car parts, For Sale - Private.

We have massive selection of wheels and tires
Any size - 19 20 22 24 26 28 30 inch rims
Any Car - 3,5,6,7 series BMW, M3,M5,M6,X3,X5 Mercedes Benz, Audi,G35,G37,Lexus,Tahoe, Suburban,Silverado,Yukon,Escalade,F150,Expedition,Ram,FX35,Explorer and more..
Any brand - Lexani, Giovanna, Asanti, Dub, Diablo, iroc, Ac forged, Tenzo and more
We have Wheels Financing Plan - Online approval
90 Days Same as cash - No Credit Check
Military financing
http://audiocityusa.com/
Click Here!!!!

Price: $350
Time: 09:03 a.m. EST
Date: 03 Mar

Price: $800
Time: 01:43 a.m. EST
Date: 03 Mar

Lexus LS 400 Parts 1995-2000
ENGINE, TRANSMISSION, EXTERIOR AND INTERIOR PARTS PULLED AND READY TO GO CALL ADAM (904)383-6019 ALSO VOLVO, AND...
Price: $1
Time: 09:55 p.m. EST
Date: 02 Mar

2009 Murano
Real Reliable Rides !!!!!!!!!!!!!!! Let us get you off your feet and put you on the street !!! Real Reliable Rides...
Price: $399
Time: 05:50 p.m. EST
Date: 02 Mar

24's in.rims
Selling my 24'S in rims. They are six lugs.came off of chevy. Rims are in great condition. Tires are fair.
Price: $550
Time: 05:17 p.m. EST
Date: 02 Mar

Price: $160
Time: 10:36 a.m. EST
Date: 02 Mar